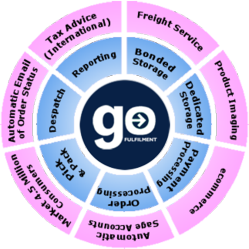 Manchester, Great Britian (PRWEB) December 02, 2011
Google shopping is becoming more and more widely used, a major reason for this, is the fact that Google searches now frequently show Google Shopping results within an organic search. Go fulfillment recognised that only a few companies have built the technology to list their products on Google Shopping and therefore many ecommerce resellers miss out on this valuable sales channel.
Go Fulfilment is really talking lead and reinventing the services typically offered by a fulfilment company, by not limiting their services around operations, and really examing how they can help their clients get their products to market. Go Fulfilment recognise that helping their clients sell products is in the interests of both parties and therefore actively seek to help their clients gain better exposure for the products. The latest support for Google Shopping is an absolutely reflection of this outside the box thinking.
Brian Taylor of Go Fulfilment said Many companies have the product, product creation and engineering skills and even more so for offshore companies, many have no knowledge about how to get to market. This means many companies need ecommerce websites, marketing and product images.
Brian concluded with, Go Fulfilment was already the first time UK fulfillment house to offer clients a ecommerce website that is generated from the information held within the stock control system. This service already created a fully bespoke ecommerce site that is fully SEO optimised site, the addition today of Google Shopping support now means that products held by Go Fulfilment will now appear in Google Shopping results. A major benefit of this infrastructure is the natural integration between stock and website means the stock levels are known ensuring Google Shopping listed items are available (unless the client wishes to support back orders).
Go Fulfilment recently announced the introduction of a photography and reproduction studio, this complements the website platform, imagery is extremely important to the professionalism of a website, the ability to provide the best images possible for a client ensures the websites created have the image quality of the very best sites.
Located in central UK, The Go Fulfilment team have been established in fulfilment and warehousing for over 25 years. This commercial experience underpins the companies service philosophy, recently Go Fulfilment has made substantial investments in technology and environment. This is the latest enhancement to the Go Fulfilment offering and is especially beneficial to offshore companies and start-ups. Go Fulfilment has the right location, the best environment and now a number of exclusive technologies.
Go Fulfilment is a UK fulfillment house dedicated to assisting with shipping and delivery for large and small businesses within across the globe. Go Fulfilments history as a fulfilment house ensures it will offer clients a first-class return on their investment.
For more information on Go Fulfilment services contact

Brian Taylor: brian(dot)taylor(at)gofulfilment(dot)com

Website: http://www.gofulfilment.com
###