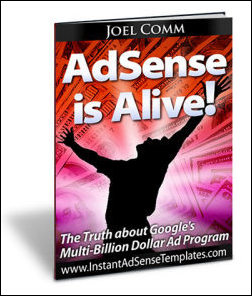 Edmond, OK (PRWEB) September 25, 2006
Hype and hysteria dominated the Internet marketing landscape this past week, as a report touting that the Google AdSense contextual advertising program was "dead" spread like a virus throughout the web. Tapping into the fears of those are unaware of the truth, the report served as a self-promotional tool for a savvy marketer seeking to draw attention to himself.
Joel Comm, the web's recognized leading AdSense expert and author of The New York Times Best Seller, 'The AdSense Code', set the record straight today in a free digital report titled 'AdSense is Alive!'
"The report that spread across the web over the past two weeks was an ingenious ploy to stir up fear and loathing amongst those who would seek to make money online," says Comm. "I am here to share the truth with people so they may continue to use AdSense as part of an overall Internet business strategy with confidence."
'AdSense is Alive!' contains a humorous illustrated fable that explains why some people are making less money with the AdSense program, and provides facts that support the AdSense program being healthier than ever before.
In the report, Comm states: "If you're using AdSense to monetize your sites, you can rest easy knowing that Google is probably the most dependable and profitable internet company on the planet. They're not going away, and the AdSense program is here to stay."
In addition to responding directly to some of the allegations contained in the widely disbursed "AdSense is Dead" propaganda, Comm reiterates the importance of AdSense publishers providing content-based sites that are enriching to their visitors.
Expected to receive thousands of download requests, Comm's report, 'AdSense is Alive!', can be downloaded for free at http://www.AdSenseIsAlive.com
For additional information, visit http://www.AdSenseIsAlive.com
Joel Comm is a socially conscious Internet entrepreneur and technology visionary who creates family friendly web experiences while showing people how to earn income online. Recognized by many as the leading expert in Google AdSense, Comm's materials have helped thousands discover the strategies to multiplying their income with AdSense.
For more information contact InfoMedia, Inc. at (405) 348-2800 or visit http://www.JoelComm.com.
# # #