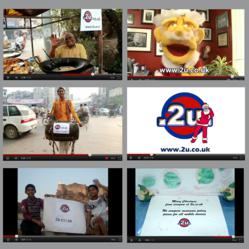 Lubenham, Leicestershire (PRWEB UK) 15 December 2011
Having videos made to order, to send as Christmas greetings, personal gifts or to promote a business for a fiver or less, has been pretty much unheard of until the arrival of low-cost websites like fiverr.com and similar UK and European versions but as 2U discovered, they could be a great way for everyone, not just businesses, to connect and share all year round.
Delivering a unique message to loved ones or customers during the festive season or any other time of the year has not only changed considerably over the last two decades, but, thanks to technology and the way people use it, it has become a great deal easier, more creative and much cheaper too.
Today, most people across the world are equipped with a computer, mobile phone, iPad or other devices which enable them to create a distinctive message of some kind themselves and send it out on a global level in an instant. And it can be done as cheaply, if not more so, than traditional methods.
While the traditional Christmas card, birthday greeting or customer thank you card popping through the letterbox courtesy of the Royal Mail is not entirely a thing of the past, many people and businesses seem to be utilising their technology and finding other creative, fun and money-saving solutions to get their message across themselves – and if they have not got the time to do it there are several websites popping up where people will create personalised videos or do multitudes of other things for