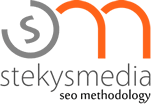 Costa Mesa, California (PRWEB) April 28, 2012
Stekys Media have long been observing the transition of Google from a benevolent search engine giant to a search engine business that made some very obvious and very aggressive moves in terms of dealing with spam and poor quality websites through their series of Panda updates. The world of search engine marketing was only just adjusting to those changes when in 2012 Google went on the offensive against blog networks.
The SEM consultants at Stekys Media predicted that there were further changes to come and in April 2012 the search engines giant has lashed out again with a deep-reaching over optimization penalty which has seen major changes in search results across multiple markets, the desired result being to improve the relevant of Google search results. But are all these changes actually benefiting searchers?
We asked Vlad Steklac, head SEM consultant at Stekys Media, for his views on the subject. He had the following to say, "Google are playing a dangerous game right now with these major updates simply because the quality of their search results is suffering and they're starting to lose some of their audience to Bing. It was barely over a decade ago when Google overthrew Yahoo and AltaVista as the dominant forces in search and it would appear that Google is forgetting that no company is invincible. At Stekys we stay on top of these changes so our customers don't have to and our ethical approach to SEO means that our clients never have to worry about a Google 'slap' of any kind."
The search engine consultants at Stekys Media are also quite certain that this isn't the last change in the Google search algorithm and although they hear almost universal criticism of this latest algorithmic change they do feel this might be part of a bigger and more far-reaching plan for the future of search engine marketing.
About

Based in Costa Mesa, California Stekys Media offer a full-spectrum SEO and SEM service from organic SEO to PPC marketing, web 2.0 and social media marketing amongst many others.
Contact:

Stekys Media

2973 Harbor Blvd

#244, Costa Mesa

CA 92626
More SEO Press Releases